Travelling With Your Pet: Ideas and Tips
By Dorothée Pâris Pasturel • 14 July 2021
Summer is finally here! Now is a great time to plan a trip or just activities and outings with family and friends. What about your pet? Depending on their behaviour, it may not always be advisable to bring them with you. Some animals are more anxious than others about changes and transportation. But others will be much happier following you everywhere than staying with a stranger (a pet sitter) or in a boarding kennel with other dogs. Depending on your situation, here are several tips to help you prepare for your departure:
Check your pet's papers
It is important before any departure to remember to take their health record with you and to update their vaccines. Keep this in mind, because some countries like the United States require a minimum of 30 days after vaccination.
Make them wear their medal (don't have one? Click here) and, ideally, have them microchipped (see our microchipping programme).
Choose a place that accepts pets
There are several websites and references to help you find the right "pet-friendly" places, whether for activities, hikes or accommodation:
 http://www.partoutavecmonchien.com/fr/home/
Check their health before leaving
It is best to make sure that your companion is doing well before starting your journey. They could come into contact with other animals or other types of food, so it is essential to protect them by having them quickly checked by a vet.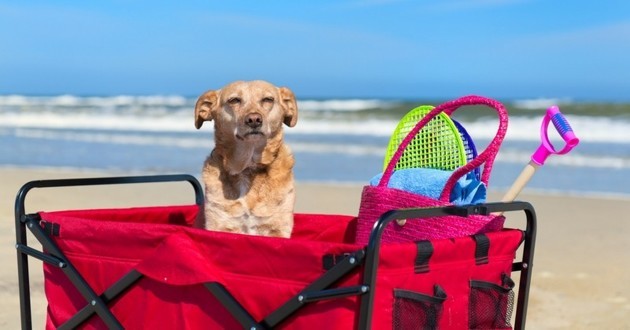 Provide pleasant and safe transportation
If you're travelling by plane, it is important that you contact the airline to know their safety criteria. These can change from one company to another, so it is important to have all the details in hand. If transport stresses your dog, it is preferable to give them a sedative in order to calm them during the flight. You have to go see your vet, who will give you a prescription.
If you're travelling by car, we recommend stopping several times along the way. Firstly, for you, of course, but also for your pet, who will certainly be thirsty or will need to relieve themselves and run around. Remember to place your car in the shade and especially to never leave your dog inside of it during stops.
Plan a comfortable and, above all, safe place for them in the car. In the car, we tend not to do enough for the safety of our pets. The best is therefore to place your animal in a cage and to attach it using a suitable seat belt. Here are several tips from the SAAQ on this subject.
You've lost your pet? Don't panic
Immediately contact the SPCA or the Animal Service in the city where you are. If you do not know who to contact, call the city, who will give you all the information you need. Put up posters throughout the campsite or hotel. Talk to the local retailers and, more importantly, do not forget to go see the veterinarians. If your pet has a license and at least a microchip, then there is a good chance that you will find them. If you've lost a cat, look everywhere (really, everywhere!) in your hotel room. Cats often hide in places where we least expect them to sneak into.
You can also check all our advice to find your pet.
Do you prefer leaving your pet with a pet sitter or boarding them?
Don't hesitate to check the places certified by Anima Quebec.  
Otherwise, the references given by others around you are generally good indications. Check the "opinions" given on Google or on the boarding place's Facebook page before committing yourself. Don't hesitate to visit the premises and ask lots of questions.
Now that you know all these tips, you and your companion can have a great, well-deserved vacation!